Looking for The Best Pickup Truck Cover for your vehicle?? Look no further! Ride Offroad offers a wide range of high-quality, functional, and stylish bed covers that will enhance your truck's look while providing essential protection. Check out our top picks below:
With its one-piece, aerodynamic styling, and excellent sealing, Campershells canopy offers a perfect fit for various pickup truck models.
Designed for practicality and versatility, this fiberglass canopy is suitable for Toyota Hilux, Nissan, Isuzu, Ford Ranger, Chevy Colorado, Mitsubishi Strada, and Mazda BT50.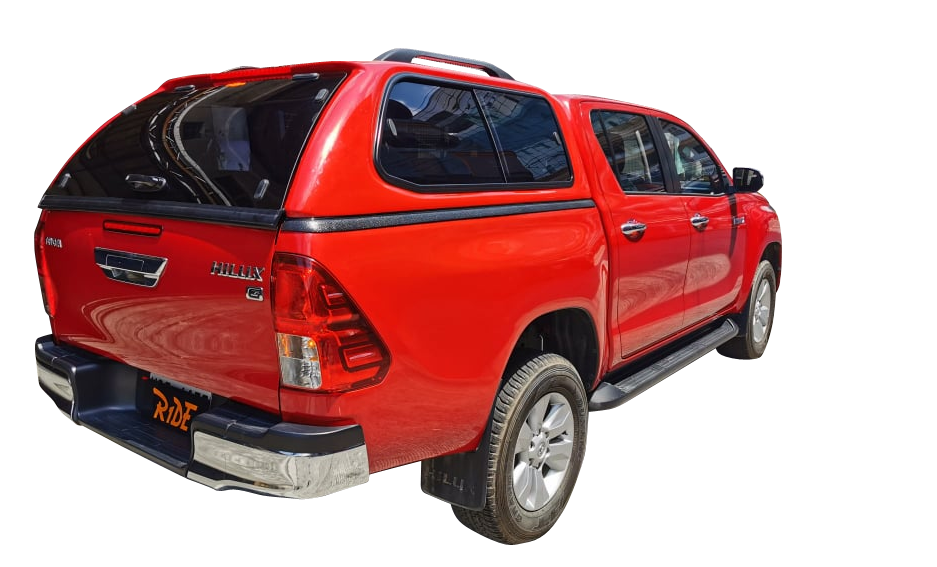 This stylish and secure hardtop features sliding windows, a lockable rear glass door, and interior carpet lining, making it the perfect accessory for any pickup truck.
Offering a sleek and elegant design, this tonneau cover adds luxury and refinement to your vehicle. It is highly practical and suitable for commercial or leisure purposes.
Made from heavy-duty ABS material, this cover provides added protection with its built-in security double lock. It raises easily for convenient access to your truck bed.
This sleek and streamlined cover offers unrestricted access to your truck bed. Its retractable design ensures weather tightness and excellent security.
Known for assured quality and innovative designs, this retractable aluminum cover is a premium choice for your pickup truck. It guarantees function and durability.
Offering easy access to your bed and the ability to haul large items without removing the cover entirely, this tri-fold cover ensures security and keeps your cargo dry.
This revolutionary cover can be half-open at 45 degrees or fully open at 180 degrees. Its durable fiberglass material and strong linkages make it a reliable choice.
Why install The Best Pickup Truck Cover on your Pickup truck?
Installing a cheap and subpar pickup cover can cost you more. Most cheap covers don't have aftersales support, making it difficult to replace broken parts or mechanisms. Additionally, these covers often use low-quality materials that can easily break, rendering them unsuitable for protecting your belongings. Invest in a high-quality pickup cover to ensure long-lasting protection and peace of mind.
Installing The Best Pickup Truck Cover on your Pickup truck is essential for several reasons:
Protection: It shields your truck bed from the elements, preventing damage from rain, snow, and UV rays. It also safeguards your cargo from theft and keeps it secure during transportation.
Organization: A bed cover helps you organize your truck bed, keeping your tools, equipment, and belongings in place and preventing them from shifting during travel.
Improved Fuel Efficiency: By reducing wind drag, a bed cover enhances aerodynamics, leading to improved fuel efficiency and savings at the pump.
Enhanced Style: A well-chosen bed cover adds a touch of style and personalization to your truck, elevating its overall appearance.
Why choose Ride Offroad for your pickup truck cover?
Ride Offroad has been a trusted name since 1995, specializing in products for SUVs, Pickup Trucks, and the Off-Road Market.
Here's why we're your top choice:
Wide Product Selection: We offer a diverse range of top-quality covers and accessories to meet your specific needs and preferences.
Superior Quality: Our products are crafted with meticulous attention to detail, ensuring durability, functionality, and long-lasting performance.
Industry Pioneers: As one of the pioneers in the field, our expertise and experience are unparalleled, guaranteeing customer satisfaction.
Added Protection and Comfort: Our products not only enhance the aesthetic appeal of your vehicle but also provide essential