When it comes to protecting your pickup truck and ensuring a perfect fit, look no further than Campershells Canopy.
If you're a pickup truck owner looking to enhance both the style and functionality of your vehicle, Campershells Canopy is a fantastic option to consider. With its one-piece, aerodynamic styling, Campershells offers a perfect fit for your truck, providing a sleek and seamless appearance. Each model is specifically designed to suit the individual vehicle, ensuring a custom look that complements your pickup's unique features.
One of the key advantages of Campershells Canopy is its secure mounting on the pickup bed. This feature not only contributes to the body-hugging fit of the canopy but also ensures excellent sealing between the canopy and the truck bed. This secure fit prevents any water or debris from entering the truck bed, protecting your cargo from the elements and keeping it safe during transportation.
Campershells Canopy Models
Let's take a closer look at some of the popular models offered by Campershells:
Campershells Magnum Canopy: The Campershells Magnum Canopy is designed with both style and functionality in mind. Its low-profile design not only enhances the aerodynamics of your pickup truck but also adds a touch of elegance to its overall appearance. The Magnum Canopy offers ample headroom and cargo space, making it ideal for both recreational and professional use.
Campershells Express Canopy: If you're looking for a more compact option without compromising on quality, the Campershells Express Canopy is an excellent choice. This canopy offers a streamlined design that seamlessly integrates with your truck's contours, providing a sleek and modern look. Despite its compact size, the Express Canopy offers sufficient storage space for your belongings, making it a versatile addition to your pickup truck.
Campershells Magnum Closed Van Canopy: For those who require additional security and protection for their cargo, the Campershells Magnum Closed Van Canopy is an ideal solution. This model features a fully enclosed design, ensuring that your belongings remain safe from theft and the elements. With its sturdy construction and durable materials, the Magnum Closed Van Canopy is built to withstand tough conditions, making it perfect for commercial applications.
Campershells Express Closed Van Canopy: Similar to its open counterpart, the Campershells Express Closed Van Canopy provides a compact and secure storage solution for your pickup truck. The closed design offers enhanced protection for your cargo, safeguarding it from adverse weather conditions and unauthorized access. Whether you need to transport tools, equipment, or personal belongings, the Express Closed Van Canopy ensures they remain secure and intact during transit.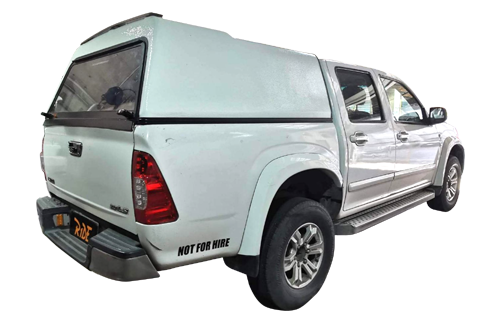 Campershells Canopy for Pickup Trucks offers a range of models that combine style, functionality, and security. With their one-piece, aerodynamic designs, these canopies provide a perfect fit for each individual vehicle. 
The secure mounting and excellent sealing ensure that your cargo remains protected and undisturbed. Whether you're a recreational truck enthusiast or a professional in need of reliable storage, Campershells Canopy is an excellent investment to enhance your pickup truck's versatility and aesthetics.
Campershells Vehicle Compatibility
Foton Blizzard 2007-2014
Mazda BT50 2012+
Chevy Colorado 2012+
Mitsubishi Strada 2005-2014
Mitsubishi Strada 2015+
JMC Pickup Truck
Ford Ranger 2012-2021
Ford Ranger 2022+
Isuzu Dmax 2012-2020
Isuzu Dmax 2021+
Toyota Hilux LN106/166 1997-2004
Toyota Hilux Vigo 2005-2014
Toyota Hilux Revo 2015+
Nissan Bravado
Nissan Frontier
Nissan Navara 2004-2014
Nissan NP300 2015-2020
Nissan PRO4X 2021+
Gallery
Why Use Campershells?
What sets Campershells apart is its rich history and commitment to quality. The company started its journey in 1976, recognizing the need for a reliable and secure bed cover to protect belongings from external elements. Initially importing fiberglass canopies from the United States, Campershells realized the potential of this product in the Philippine market and began manufacturing their own fiberglass pick-up truck tops.
Over the years, Campershells has continuously innovated and improved its products. In 1982, they introduced the sliding type with four-sided radius aluminum windows, addressing the need for ventilation in the tropical climate. In 1990, they invested in thermo-forming equipment, becoming the first in the industry to manufacture polymer canopy tops. This move brought lightweight, durable, and low-maintenance options to pickup truck owners.
Campershells didn't stop there. They expanded their product line to include hard tonneau covers under the brand name Aerocover and retractable tonneau bed covers in partnership with Pace Edwards from the United States. The company's commitment to quality is evident in their investment in state-of-the-art CNC machines for precise measurements and shortened mold development.
With their technical knowledge, good reputation, and experience in thermo-forming, Campershells has garnered trust from companies to manufacture high-quality parts and products with meticulous and accurate specifications. Their expertise has even led to the export of Campershells to other countries, showcasing the workmanship and quality on a global scale.
In 1994, Campershells expanded its product offerings by establishing Ride Inc., a company specializing in products for the SUV and 4×4 Off-Road market segments. This further demonstrates their dedication to meeting the evolving needs of customers and providing top-notch solutions.
When it comes to your pickup truck, don't settle for anything less than the best. Choose Campershells Canopy to experience the perfect fit, superior protection, and unmatched craftsmanship. Trust in their decades of experience and enjoy the peace of mind that comes with investing in a high-quality canopy.
Upgrade your pickup truck with a Campershells Canopy today and embark on a journey of style, durability, and reliability. Visit Ride Inc. to explore their wide range of products and take your pickup truck to new heights.